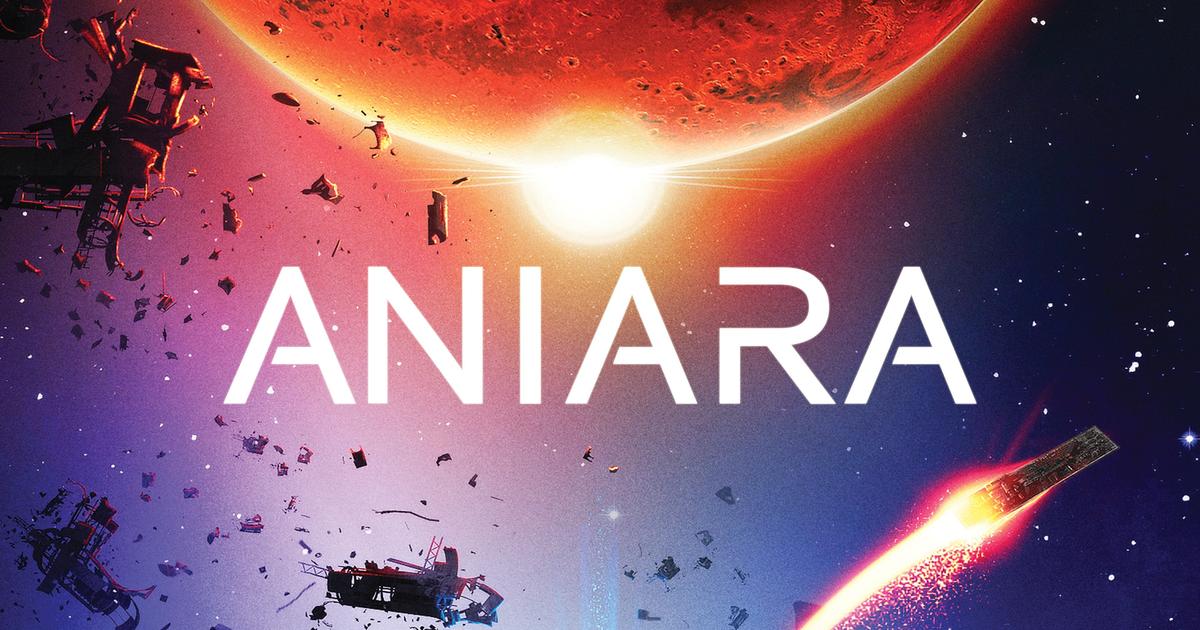 Directed by

Pella Kågerman
Hugo Lilja

Screenplay by

Pella Kågerman
Hugo Lilja

Based on
Aniara
by Harry Martinson
Produced by
Annika Rogell
Starring
Emelie Jonsson
Cinematography
Sophie Winqvist
Edited by

Pella Kågerman
Björn Kessler
Michał Leszczyłowski

Music by
Alexander Berg

Production
companies

Meta Film Stockholm
Unbranded Pictures
Viaplay
Film Capital Stockholm Fond
Gotlands Filmfond
Ljud & Bildmedia

Distributed by
SF Studios (Sweden)

Release date

7 September 2018 (TIFF)
1 February 2019 (Sweden)

Running time

106 minutes
Countries
Language
Swedish
This is an outstanding example of what high-concept contemporary Sci-Fi film-making looks like.
Cast Of Characters:
Emelie Garbers

as the Mimarobe (MR)


Bianca Cruzeiro as Isagel

Arvin Kananian as Captain Chefone

Anneli Martini as the Astronomer
We begin with a doomed Earth, spiraling into environmental decay and  economic doom. Not unlike Earth's current situation (e.g. Wildfires, Pandemics,Earthquakes  and what-not). Earth having been ravaged by natural disasters and sea level rise, is becoming  largely uninhabitable. Therefore, not surprisingly Billionaires like Elon Musk, Sir Richard Branson and Jeff Besos are making plans to High-Tail it to Mars on a moments notice,
In the best of all scenarios a shuttle brings a group of lucky passengers out of Earth's atmosphere, depositing it  onto a giant craft called Aniara, a MEGA luxurious spaceship that takes passengers from Earth to Mars in three weeks.

The Ariana seems at first to be a  delightful space-floating hotel and shopping mall, auditorium, disco etc. A 'Splendiferous" way station before reaching a new home on Mars.
There's only one problem:
The ship suddenly veers off course to avoid a collision with space debris. However, some of the debris pierces the hull and hits the ship's nuclear reactor, setting off an imminent Nuclear meltdown, forcing the crew to eject all the ship's fuel, resulting in the ship having no navigational control, no propulsion, and thus no ability to resume its original course.(Side Note: A reviewer on social media said that space debris constantly hits the ISS (International Space Station and it doesn't go off course, but for the sake of suspension of disbelief the debris that hits the Aniara has to be Massive given the size of the spacecraft).

Captain Chefone promises the passengers and crew they will be able to resume the trip to Mars once the ship passes a celestial body with a gravitational field that will allow them to get back on course. If that sounds highly unlikely to you, well your suspicions are well-founded. The captain says that this should happen in no more than two years.
MR's roommate, the ship's astronomer r, later reveals to her that this is a lie and that there is no possibility of resuming their course. exemplifying the vastness of space by pointing to a lone air-bubble, locked in the base of her glass of liquor.
MR's (Our protagonist) job involves working as a "Mimarobe, a sort of empath who is  also an independent, iconoclastic thinker, and works in a virtual-reality AI therapy room called the: MIMA:
MIMA is run by MR. At first the passengers prefer to trawl around the endless retail options. But after the freak collision with the space junk happens sending the ship off course, the passengers turn to the MIMA, which becomes a valuable resource. And like all of Earth's resources, it's soon overwhelmed and plundered. A haunting allegorical tale, Aniara warns of humanity hurtling in the wrong direction and realizing too late that there is no turning back.
"MR," portrayed in a tireless performance by Emelie Jonsson:
Who at first seems to roll with the punches of Aniara's circumstance. .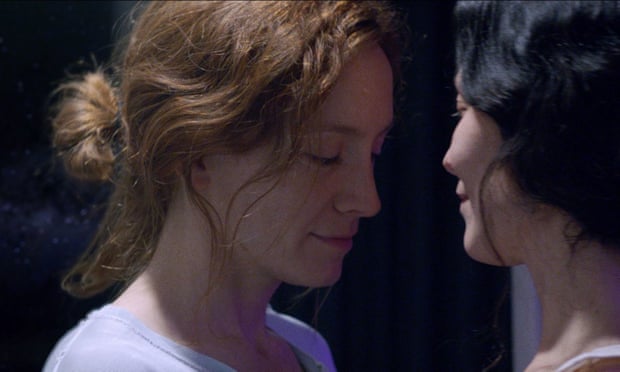 Aniara (the name comes from an ancient Greek word meaning "despairing") is based on a 1956 epic poem, by the Nobel Laureate (as of 1974, at least) Harry Martinson. It was adapted into an opera by Karl-Birger Blomdahl in 1959. It was made into a film before, in 1960. It has inspired more than one progressive rock album.
This film, written and directed by Pella Kågerman and Hugo Lilja, has a distinctive flavor of the now, or the not-too-far-from now.

The movie divides into chapters. At "Week Three," folks are getting a little antsy, despite having been told that the rudderless quest for a celestial object could well take up to two years. But then we jump to year three, and the ship has a new dance craze: The Yurga.
Year Four is subtitled "The Cults" and climaxes with a large-scale orgy.n during which Isagel (Who has now become MR's life 'Partner') becomes impregnated by one of the participants of the orgy. Isagel is suffering from Post Partum Depression coupled with the fact that she is a "Fatalist.'

All this is pretty scary and dispiriting in a slow-motion all-gender "Lord of the Flies" sort of way. The production design by Linnéa Pettersson and Maja-Stina Åsberg is, in keeping with a great European sci-fi miniminalist tradition, a lot more credible and interesting than that of a mainstream Hollywood effort like "Passengers." And the fly-on-various-walls tenor of the direction is aided to greatly by Sophie Winqvist's cinematography.
What it all adds up to is a bleak "in space no one can hear your silent scream of existential despair" project. It's bracing to be sure, and I surmise that those looking for more positively aspirational fare will have a particularly difficult time when the viewers notice the year that the Aniara finally reaches a Celestial body in order to 'Slingshot back on course'.
Rating B+