The World to Come review – desire burns ever so  S L O W L Y in this frontier romance
Directed by
Mona Fastvold
Screenplay by
Ron Hansen
Jim Shepard
Based on
The World to Come
by Jim Shepard
Produced by
Pamela Koffler
David Hinojosa
Casey Affleck
Whitaker Lader
Margarethe Baillou
Starring

Katherine Waterston
Vanessa Kirby
Christopher Abbott
Casey Affleck
Okay, Look I know we are all used to seeing the hesitant kiss, the accidental touch Blah Blah Blah get the pictutre? Remember that Saturday Night Live sketch that parodied Lesbian Period Drama movies?

Well, this is NOTHING like those movies, and we can thank the Goddess of Lesbian Cinema for that.
In 1850s America, farmers' wives Vanessa Kirby and Katherine Waterston connect in an intimately  powerful, yet understated drama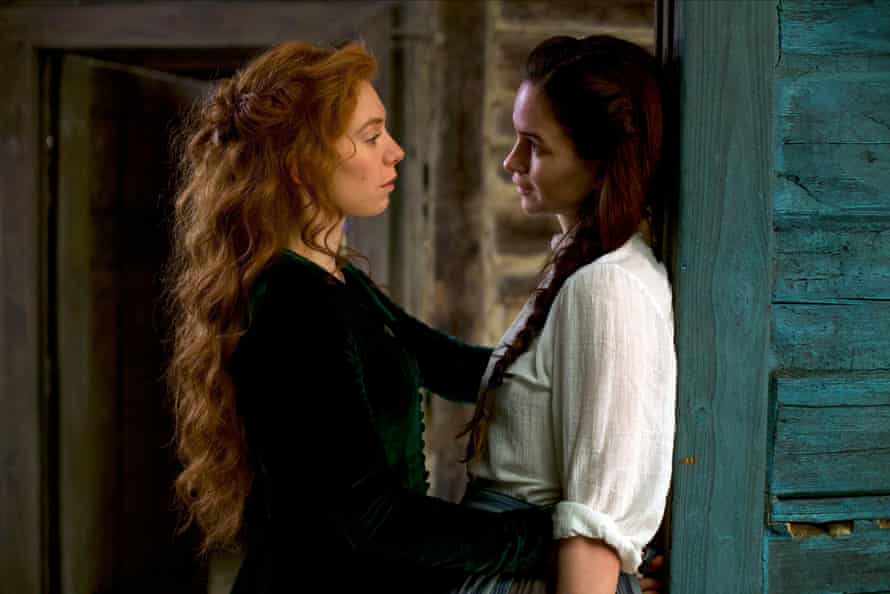 Trailer for The World to Come:

(Don't be fooled by the Trailer)



"I have become my grief." Abigail (Katherine Waterston) writes in the journal that was intended to be a ledger of the details of 1850s US frontier farm life but instead turns into a poetic account of her inner turmoil – Emily Dickinson-inspired moments of anguish as she chisels ice from the potatos for lunch.
Then one day a wagon rolls past bearing the new tenants to the neighboring holding. The husband barely registers, but the wife, Tallie (Vanessa Kirby), is magnetic:  Reddish Gingered shoulder-length curls, curious eyes seeking out Abigail's gaze and holding it in a moment of muted intimacy.
Love, at first sight, isn't a frivolity afforded to women of this era, as they were chosen by their husbands for their "good sense, efficient habits and handy ways".
Taking its cue from Tallie's Ginger coloring, the film warms once Tallie arrives. Abigail's farm – a glum, building, dark, featureless takes on the comforts of a home.
The connection between Tallie and Abigail is born out of confidences shared about marriages in which "wifely duties" are often a topic (That always gets in the way), and are just another onerous addition to the seemingly interminable list of chores that includes: Darning, milking cows, and shoveling manure…Nonetheless, the 'connection'  Abigale and Tallie share blossoms into something richer.
This is a subdued kind of storytelling. Passions run deep, making them feel like whispered secrets in a church rather than a grand gestured-like soul-baring declaration (e.g. Imagine Me&You), in which the protagonist Rachel (Piper Perabo) shouts: (You're A Wanker) to her lover LUCE (Lena Heady), who is standing on the roof of a car that is several yards away, sitting static in gridlock. In The World To Come there's a satisfying literary intelligence at work.  This movie subverts expectations often found in a conventional lesbian romance.

I am not usually a fan of period pieces, and yet not since the Academy Award Winning film, The Favourite has there been a movie that pulled me in so deeply that it was nearly over (As I sat mesmerized in front of the screen) before I checked the time. 
The viewer must watch the entire movie to its end.